5 minutes, 59 seconds

Availanle upon agreement as bumper music, motion picture/television score, etc.
Words by Karen Lake, music Karen Lake & Bunny Sings Wolf, sung by Bunny Sings Wolf


| | | |
| --- | --- | --- |
| Listen to sample #1 | Listen to sample #2 | Listen to sample #3 |
| Listen to sample #4 | Listen to sample #5 | Listen to sample #6 |


The Prophecy Keeper Song and several other songs by Bunny Sings Wolf, is available on CD by personal check or PayPay!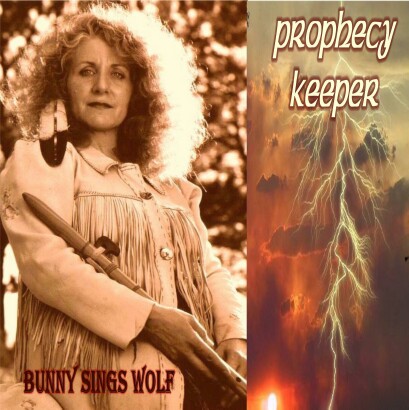 "The Creator has given you a beautiful gift. Perhaps he is allowing you the time to sit back and gather more songs. These songs can bring messages to those who listen" Chief Oliver Red Cloud (Lakota-Dakota) Pine Ridge, SD from a letter to Bunny dated April 12, 2005


---
PRESS RELEASE
Hillbunny Productions www.hillbunny.com
307-941-1111
Announcing the release of "Prophecy Keeper", a new and very timely 28 minutes of soulful music on Compact Disc with haunting canyon echoing Native flute, heartbeat drum, chimes and acoustic guitar harmonies, storm winds and thunder sounds to compliment the meaningful words so heart-fully sent from the strength of a feminine voice you won't soon forget! (sounds like Joni).
Released September 14, 2005 from the Wyoming side of the Black Hills the CD is inspired by a song of the same title, co-written with Nashville Awarded Songwriter Karen Lake. Production of the CD was supported in part by a grant by the Wyoming Arts Council through funding from the National Endowment for the Arts.
With many implications for our times, the onerous message in the lyrics resound
"Let the truth be known for all mankind again!"
This is the fourth solo album in the past four years released by performing Artist, Singer-Songwriter Bunny Sings Wolf, and already rumors are circulating that this could be a strong contender in next years' NAMMY nominations.
Bunny's expressive Native American flute playing rivals her confident and soothing voice, always peaceful, and her Black Hills' inspired music is organic and earth-friendly. All vocals, Native Flute, Acoustic guitar, native heartbeat drum and Harmonies are done by Bunny Sings Wolf in a genre all her own, recently dubbed by a Rapid City reviewer as "Lakota-inflective Folk music."
Originally planned as a single release recording done at Fiddlestring Productions, Hermosa, SD, the recording session went so smoothly that Bunny did a live mini-concert of a few of her many new songs she has earmarked for an upcoming 2 CD project (her long awaited Kate Wolf tribute album) that is still on hold until investment capital is obtained.
While Bunny sang, "Stringbean" Svenson kept the microphones on, and to everyone's surprise the songs came out so well that Producer O. Lee Engberg suggested they just go ahead and mix the extra tracks for this "Prophecy Keeper" CD. The songs seemed to fit well the theme, and were thus included as bonus tracks along with an added acoustic version of the "Prophecy Keeper" song (without the wind and thunder so that the subtleties of Bunny's flute, voice and the lyrics could be better reflected upon by thoughtful listeners).
Additional songs on the album include a beautiful original song called "Cold Creek Willows" that was inspired by one of the few properties still left undeveloped in the Black Hills. The song features a striking "bridge" with Arapahoe words in a tune Bunny received in a dream while doing a five-week music school residency on the Wind River Reservation last year. Arapahoe cultural advisors there assisted Bunny in learning the subtle meanings behind the words as well as the correct pronunciation.
She sang the debut of the Arapahoe portion of the song solo at the conclusion of an all school music production she orchestrated with students (kindergarten through 6th grade) at St. Stephens' Indian school this time last year, never dreaming that one year later the words would be so comforting and full of heart healing hope during this time of storms that have caused so many to have to leave their homes from Katrina and now the Rita hurricanes. Many Native American prophecies have indicated that when people stop respecting and caring for the earth that catastrophes would be the natural outcome of living out of harmony with nature.
But the songs all convey comfort and hope and a positive promise for the future.
From "Cold Creek Willows" lyrics -
"the willows heard her promise"…"to bring the people home again."
Permission has been granted by Bunny Sings Wolf to print the lyrics of this song alongside reproductions of two limited edition paintings, inspired by the same property, by Jon Crane of Hill City, for inclusion in a coffee table book being compiled by Mrs. Gail Crane for possible publication in 2006.
Sound Clips, lyrics, and the stories behind the complete list of songs on this CD, along with photos pertaining to them, may be found at www.bunnysingswolf.com on the web.
CDs may now be purchased for $8.00 plus shipping, at www.bunnysingswolf.com using Pay Pal or a printable order form (for checks or money orders). The CD is now also for sale at www.CDBaby.com, (call 1-800-BUY-MY-CD request it), and will soon be available at retail outlets that feature Bunny's music throughout the Black Hills area (partial list may be found on her web site "retail" page), soon at Tower Records, AOL and a number of pay per download web sites worldwide.
With the kinds of sounds that relieve stress and give hope, Bunny's new songs are already being played, and being requested, at a number of satellite and Native American owned an operated radio stations where listeners have been saying this is truly music for our time!