"CREATOR NOW SAYS WE MUST RESTORE THE ORIGINAL DANCE OF FRIENDSHIP AND WELCOME, GIVEN BY JESUS TO WOVOKA AT WALKER LAKE NEVADA IN 1889-90 -- WHICH (SADLY) BECAME KNOWN TO THE WORLD AS THE "GHOST DANCE" -- ACTUALLY A POLLUTED VERSION OF WOVOKA'S DANCE OF FRIENDSHIP AND WELCOME."
Prophecykeepers Radio won't be on BlogTalkRadio after the 28th of the month,
without at least $39.00 assistance from our listeners... even $1.00 will help!
Our miscellaneous total expenses to keep Prophecykeepers online (hardware, software, ISP access, BlogTalk fees, etc. etc.) run about $150.00 monthly and financial needs not met by listeners are absorbed by the fixed income of a disabled senior. Without a replacement PC soon, it is game over.
A Ministry of Oklevueha Native American Church of The White Roots of Peace Federal EIN # 84-1402813

Prophecykeepers Radio enters its eleventh year of existence this spring of 2015. Without listener support, Prophecykeepers Radio will not be on the air after the 28th of the month. Since Aug 31, 2011, nearly 90,000 listeners have learned about Native American Spirituality through Prophecykeepers on BlogtalkRadio. No other daily Native American broadcast can make that claim... AND we have done it all on a shoestring budget! It only take $39.00 each month to keep us up and running TWO HOURS A NIGHT... which is MUCH better than the $50.00 a week that BBS Radio used to charge us for ONE hour a week.


Full disclosure:
Actual total ministry expenses run at least $150.00 a month, and are never met by offerings, so they are necessarily absorbed by the church trustee's single fixed income, which actually supports two persons... plus funds the nightly BlogTalkRadio podcast, Internet access, website storage fees, domain registration fees, hardware, software, etc. No salary is paid to any church member.
"There is photographic proof. The worst photos are not on the internet but are in the U.S. Archives. Pop Singer Mohican Indian Bill Miller speaks in the video below of seeing these haunting photos on display in Winnipeg" Will Blueotter


Ghost Dance - Bill Miller


HELP NATIVE AMERICAN PROPHETS OBEY THE PROMISE OF THE VOICE OF THE CREATOR TO "LITERALLY SAVE THE PLANET" FROM DESTRUCTION BY SPREADING NEWS -- FROM JIMMY TENRIVERS -- OF THE NEED FOR A FULL RESTORATION OF ORIGINAL GHOST DANCE...

CREDENTIALS

Rabbi X. (who wishes to remain anonymous for safety concerns) secretly witnessed the startling fulfillment of Will Blueotter's March 1998 prophecy of "2005 will be known in the future as the year of the Great Havoc" prophecy. The Rabbi later, in November of 2005, called the prophecy "the most detailed fulfillment of Prophecy in 2600 years" and characterized Will Blueotter as "A Prophet To The Nations" -- "Nations" (Goyim) meaning Gentiles.

SPIRITUAL AUTHORITY

"Surely the Lord GOD will do nothing, but he revealeth his secret unto his servants the prophets." Amos 3:7 KJV "Would (to) God that all the LORD's people were prophets, and that the LORD would put his spirit upon them!" Moses in Numbers 11:29 "Preparedness, when properly pursued, is a way of life, not a sudden, spectacular program." LDS Pres. Spencer W. Kimball

THE PROBLEM

On November 18, 1785, Cherokee Chief Old Tassel, a Great uncle of the author of the following editorial said this: "Many proposals have been made to us to adopt your laws, your religion, your manners and your customs. We would be better pleased with beholding the good effects of these doctrines in your own practices, than with hearing you talk about them."

MY LAMENT
First let me say that I HATE having to tell you all these things. For good historical reason (like the stoning and murders of past prophets) I have always felt a sense of danger for opening my mouth.
I have been accused of being a prophet by experts on the subject, but out of "fear on man" I have usually run away from my responsibilities. I have dodged my obligations and Creator has recently disciplined me in a very loving manner -- by taking away all my income for evading my duties. I do not ask for donations, but like missionaries of old, I am now "traveling without purse of scrip." The injunction for missionaries to travel without "purse or scrip" (a bag) was given first by Jesus in Luke 10:1-7 and reiterated in D&C 84:86.


THE SOLUTION -- AS BLUEOTTER SEES IT:


Foreword:
Secret Weapon of The Third Reich
Nowadays, thanks to tabloid magazines, the subject of prophecy seemingly has been relegated to the trash heap, and those who believe in it to the laughing academy. The fact is, as publishers of tabloids like The Enquirer and The Star knows PROPHECY SELLS. It's so sad that the tabloids invent prophecy out of whole cloth, because not so long ago, people spoke of Nostradamus, Mother Shipton, and Revelations in hushed tones. The reason is that prophecy used to be the universal measuring stick of all human spiritual movements... the proving ground of the faiths of man.
You are being cleverly manipulated to disregard prophecy by The Powers That Be who control the once FREE Press, which is now a "Slave" Press. If you believe the perpetrators are Jews, think again (or maybe even think for yourself for the first time. To follow the bread crumbs, click here.
The War in Iraq is really all about prophecy... but you won't hear much about that.


The sword reaches America after 318 years

The number 11 is the number of resolution to the world's dwindling adherents to the oldest religion: Totemism.
The crusades supposedly ended on 9/11 1683 at the gates of Vienna, but Muslims never forgot... Europeans and Americans may have -- until 9/11 that is. But we don't hear about that here in the west.
Muslims believe they have moral ascendancy because of -- you guessed it -- their prophecies.

In the past, the possible psychological warfare effects of counterfeit prophecy on large masses of people could be underestimated. Hitler twisted the verses of Nostradamus to make it appear a Nazi victory was certain. Biblical prophecy was also used by both Nazi and Allied war machines, but the Power of prophecy to free the masses is exponentially much greater than its power to dupe them.

You've heard a lot -- and will continue to hear -- both information and dis-information about prophecy, but there are a lot of historical facts surrounding Mormon and American Indian prophecy that you probably never heard about... but hopefully, that is about to change.


MISCARRIAGE OF THE WILL OF GOD: The Great Suppressed Spiritual Destiny of American Indians

By Will Blueotter

Custer came to parley with Chief Medicine Arrow, Bad Dog and others. Medicine Arrow stood up and faced Custer at one parley and said, "You have taken this pipe and this smoke in the presence of the Sacred Arrows of the Cheyenne. You have promised not to hurt us. If you break this pledge, you will become as ashes in the grave. Yellow Hair, this is your grave. If you do not keep your word, you will die.
Custer walked away unmoved by the ceremony or by the Chief's prophecy. Later, over 200 men died under Custer's command, which fulfilled a prophecy made by Chief Sitting Bull about receiving revenge from an earlier battle in which Custer led.
In 1889-90 well documented Mormon Prophecy and well publicized American Indian Prophecies were fulfilled in detail... at the same time. In 1889-80, Mormon church leaders announced a major change in Mormon church theology... and there was an immediate reaction from a nearby but completely unrelated Native American Indian spiritual community. It was a reaction that spread to Indian tribes nationwide, but the intent of that Native Spiritual movement was eventually derailed.

In 1992, a similar event happened... longstanding Mormon Prophecy and Native Prophecy converged once again.
At that time, Mormon church leaders announced a major change in their theology... backsliding from their divinely appointed responsibilities to their "original set of instructions."
Once again, there was an immediate reaction from a nearby but completely unrelated Native American Indian spiritual community.
Here is a non-fiction story of that convergence of prophecies and the possible global ramifications of that so-called "coincidence."
2008 is a year when very well documented and DETAILED Mormon, Aztec, Mayan and other Native prophecies ALL converge -- as well as Ezekiel and other Hebrew prophecies, and Nostradamus prophecy as well -- in seemingly impossible detail.

IT IS A LITTLE KNOWN HISTORICAL FACT THAT MORMON FOUNDER JOSEPH SMITH WAS INSTRUCTED TO TRANSLATE THE BOOK OF MORMON AND IMMEDIATELY DELIVER IT TO THEM IN ORDER TO EMPOWER AMERICAN INDIANS TO LEAD EUROPEANS SPIRITUAL QUEST -- TOWARDS A WORLD WITHOUT WAR AND KILLING...
...a world of living "All Things in Common" in a land of plenty... a world envisioned today as essential for human survival by brilliant prophets like Edgar Cayce in the 1920s and today by Gordon-Michael Scallion, Dannion Brinkley and others.

Wow, what a statement! Hyperbole? A grandiose claim with delusions of grandeur? Egregiously egomaniacal? Wait... it get's even better.
-----------

The Mormons "missed appointment" with Wovoka and the Dance of Welcome and Friendship at Walker Lake in 1889-90

Firstly, I want to express my gratitude to Tom Laughlin and the screenwriters and producers of the film Billy Jack for preserving the verifiable historical heritage of the Original "Dance of Friendship and Welcome"-- exactly as it was taught by the Paiute prophet Wovoka - taught by Wovoka's descendant and son-in-law Andy Vidovich to the cast and crew. Just below is a short clip of the film Billy Jack - just after The Snake Dance beginning 54:16 minutes into the film.
A "Billy Jack" sequel is planned for this year 2008.

About Blueotter
In the Cherokee language the name "Blue Otter" is expressed as "Otter Blue," or "Tsiya Sa Ya," which a contraction of "Tsiya Sagonige" or Otter Blue - or "Blueotter."
"Ya" is added to the end all personal Cherokee language names to indicate a proper noun.
I am a mixed-blood Swedish/German/Dutch/Scots-Irish/Cherokee/Powhatan/Shawnee born to a Metis (mixed-blood) Indian mother and a Viking/German father whose parents were born in Europe.
At birth, I was given the anglicized name of "William Anderson." At my spiritual re-birth, I was named "Blueotter" by the Creator himself.
Nothing unusual about all that, right? Right! Here is what I have to report:


WHILE READING, PLEASE ENJOY THIS VIDEO FEATURING ROBBIE ROBERTSON'S SONG "GHOST DANCE." "YOU DON'T STAND A CHANCE AGAINST MY PRAYERS, YOU DON'T STAND A CHANCE AGAINST MY LOVE, THEY OUTLAWED THE GHOST DANCE, THEY OUTLAWED THE GHOST DANCE, WE SHALL LIVE AGAIN, WE SHALL LIVE AGAIN..."

According to Wikipedia:
"As the Ghost Dance spread from its original source, Native American tribes synthesized selective aspects of the ritual with their own beliefs, often creating change in both the society that integrated it and the ritual itself."
Wikipedia's circumlocution translates to what all tradition-minded native people know -- that the "POLLUTED "Ghost Dance" version of Wovoka's "Dance of Welcome and Friendship" as practiced by The Sioux under Chief Sitting Bull prayed for the death of all white people -- and was actually the antithesis of the Original "Dance of Friendship and Welcome" as taught by Wovoka. In his lifetime, Wovoka was unjustly blamed for the Massacre at Wounded Knee.
Blueotter Speaks:
Hopi prophecy speaks of their "original set of instructions." I purpose to present - to the best of my limited ability -- the original set of instructions given to the Mormons by Joseph Smith Jr., which were carried on for quite some time by Brigham Young, and eventually abandoned by The Church of Jesus Christ of Latter Saints (L.D.S.).

Nowadays the leaders of the Church of Jesus Christ of Latter-Day Saints (Mormon) seem oblivious to the original teachings of their own scriptures, not practicing the teachings of their church's founder(s) -- and the people of the church hunger and thirst for their rightful spiritual destiny... which was to BE SPIRITUALLY LED BY INDIANS:

Mormons May Be Under a Book Of Mormon Curse
If you are NOT a Mormon, you are probably disinterested in the following information... and I don;t blame you, because from the actions of the L.D.S. Church, they are under a Book Of Mormon Curse -- but I recommend reading my editorial:

MORMONS FALL AWAY: Signaling the Coming of "A Future Indian Prophet" click here

If you are not a Mormon, I am not here to "sell" you on Mormonism... far from it. Since 1985, I have been led by the spirit to know what the original set of instructions were to the Hopi and to the Cherokee -- known and revered anciently to all Indians of the Americas as "The Twin Fires."

If you aren't interested in the sad details, suffice it to say that Mormons were put on certain specific path by Mormon church founder by Joseph Smith Jr. - a path nowadays called by Indians as "The Good Red Road" a path scheduled to prepare Mormons to be spiritually prepared to converge in 1889-90 with the path of spiritually prepared Indians who were summoned by and responded and met Jesus at the Walker Indian Reservation near Yerington, Nevada.
Mormons -- over time -- slowly incrementally departed from that Red Path in the years after Smith was assassinated on June 27, 1844 by a mob in Carthage, Illinois -- while he was running for president of the United States -- and winning in nationwide straw polls.

All things being equal -- you might ask -- what the heck did or does the Mormon Church have to do with Wovoka and the ORIGINAL Ghost Dance?
Everything, says I.


I am not "beating up" on the poor Mormons... heck, I am a member of the L.D.S. Church (Mormon) but have been inactive since 1992 when the church repudiated 150 years of its most sacred teachings.
I am a "Mormon" because I believe the original 1830 edition of the Book of Mormon is true as correctly translated. I do, however, have some reservations about the translation. -- and for good reason. The book's prefaces indicates that we all should have some reservations. Mainly I am concerned about the way punctuation was later added by the printer's assistant to the original punctuation-free manuscript. But that is a very minor technical concern of mine -- compared to the vast "Miscarriage of Will of God" that I am about to reveal to you.
I believe in the scientific and archaeological validity of the Book of Mormon -- but I won't blindly follow the leaders of the huge corporate monster that is the Church of Jesus Christ of Latter-Day Saints.
Why do I believe in a book that so many people laugh at -- or fall asleep reading -- like Mark Twain once said. Most people's perception of the Book of Mormon is that is was a book that some teenage kid in upstate New York in 1830 claimed was given to him on plates of gold by an angel name Moroni?
Well, it's easy for me to relate to those ideas that sounded so crazy to billions of people who have been kept purposely misinformed since 1830.
According to the descendants of the famed Sequoyah was a member of the ages-old "Scribe Society" who held secret knowledge passed down from ancient teachers called the Assaga." Sequoyah was incorrectly credited with "invention" of the ages-old Cherokee Language Syllabary which pre-dated the coming of Columbus by thousands of years. My Cherokee ancestors had records on gold plates -- just as the Book of Mormon was engraved on gold plates.
Cherokee Nation police (working for corrupt mixed-blood leaders) branded Sequoyah as a witch, and his fingers and ears were cut off. His wife was eventually murdered by the Cherokee Nation. Sequoyah died a fugitive in Mexico. Learn more from my Chief Dr. Charles Rogers website.
Later, when Cherokee National leaders sensed they could profit from Sequoyah's work, they foisted a story on the world that was a lie. The painted image of Sequoyah is that of another man. Learn more.
It is a known fact that Joseph Smith, while living in Missouri in the 1831 to 1838, visited my direct ancestors the Chickamauga Cherokee -- who had moved to southern Missouri in 1799 and tarried there and on their northern Arkansas 1828 "Lovely's Purchase" US Federal Indian Reservation until forced onto reservations in Indian Territory (now Oklahoma) in the 1840s.

Our most sacred Cherokee records were kept in a wooden ark, and guarded 24 hours a day by two warriors using special bronze-tipped arrows that had been around since before the Iron Age. Legend has it that these records were given to The Lenape around the time whites first appeared, and they took this sacred bundle to what is now Canada, and when and if that bundle crosses back into the USA, the end of the USA will soon follow.
Archaeologists didn't have a clue about the complicated system of weights and measures used in South America up almost 100 years after the Book of Mormon was published.
Archaeologists didn't have a clue about the monetary system anciently used by the Arabs, but the Book of Mormon described that system.

For a study of the vast scientific evidences supporting the Book of Mormon click here.

Descendent of The Famous Native American Indian Prophet Wovoka


In 2004, BYU Anthropology Professor John Clark revealed that many artifacts and evidence of the Book of Mormon have been found in geographical and archaeological findings. These same artifacts and incidents described in the Book of Mormon line-up correctly in ancient history, he said. "Practices, instruments of war and history in the Book of Mormon are in accordance with Mesoamerican ways," Clark said. Metal plates in stone boxes, ancient writings, warfare, cities, cement, kings and monuments, metaphors, time-keeping, old-world geography, new-world geography, cycles of civilization and demographics are all evidences found in the Book of Mormon that are verified in Mesoamerican culture.
You would think the news media would be all over a "City in the Clouds" or a "Secret Chamber in the Rockies" full of ancient records which was been found by the late John Brewer. Those teachings are carried on today by Jerry Mower, an ex-Green Beret friend of mine, not to far from where I sit typing, near Manti, Utah.
People used to laugh at the Book of Mormon records of elephants in ancient America... but guess what? Now, long after the Book of Mormon was published, archaeologists know there were indeed elephants (and not just Woolly Mammoths) in the Americas.
I could go on an on, and sometimes do... but that's not why we are here. We are here to talk about the great spiritual destiny of Indians in the Americas. The only white people that were aware of this destiny were EARLY MORMONS, so lets take a look some salient facts:
Now that so many long watched for Mormon prophecies are being fulfilled... most active Mormons (now that the faithful ones have been kicked out) seem the least bit concerned over the wholesale fulfillments of the long standing Mormon prophecies.
Here's a few Mormon prophecies right off the top of my head - much of them attributed to LDS Bishop John Koyle and others to Gail's Story
>Wheat Crop Failures... (happening now)
>Climate Change... (happening now)
>U.S. Government treachery against its own citizens... (happening now)
>U.S. Army committed to small wars all over the planet leaving the homeland unguarded... except by FOREIGN TROOPS stationed here... (happening now)
>Followed by foreign invasion by Moslems... (happening now) and possibly later by Chinese troops... and fulfillment of George Washington's Prophecy at Valley Forge...
>Monetary Collapse... (happening now)
>HUGE Nationwide U.S. increases in mortgage forecloses... (happening now)
>The Federal Reserve discussing return to The Gold Standard... (happening now)
>Abuse of Power by a three branches of the US Gov't... (happening now)
>Failure of the First Estate (A Free Press) to check governmental abuse... (happening now)
>Bishop Koyle's Weather signs -- Just before a presidential election year, a "Long Hot Summer" followed by a "hard winter in the country," followed by a "waterlogged spring," followed by losses of the wheat crop over several years at a rate of 1/4 loss per year, (happening now) followed by the death of the newly elected democrat president before he/she could take office.
>Followed by the failure of the U.S. Gov't ability to collect taxes after the election and of a democrat, an inability to find anyone willing to take the office of USA's president.
>Followed by deaths of thousand of Mormons due to a "purplish blotch" under the skin (a perfect description Beta Burns LONG before Nuclear Fallout was known of)
>Followed by the US Gov't being saved by "The Boys From The Mountains" (Mormons)

If you peel away the layers of current Mormon doctrine, and compare and contrast with doctrine of the early church, a fascinating story might emerge. If I had not learned that that certain scientifically verified archaeological facts were proven much later than 1830 that were revealed in The Book of Mormon, I might have written the book itself and the religion off as a total fraud.
Instead, I learned what I firmly believe is the basic truths about Joseph Smith Jr., Mormon History and the Book of Mormon.
And now I can really hear you snoring, but here goes... here is what I know. Here is my "testimony"... and it reads a lot like the testimony of Samuel the Lamanite in the Book of Mormon.
Truth is, 2,200 years elapsed between the migration of the Book of Mormon Family of Lehi Colony around 700 BCE, and the downfall of their millions of descendants around 1500 AD, the same time the Mayan civilization fell due to drought.
The Book of Mormon Lehi colony departed from Jerusalem just before the fall if the Kingdom of Judah to the Babylonians. The other "Lost" 10 tribes of Israel would soon disappear - by voluntary migration - into the north countries.
Judah's King Zedekiah's son was Crown Prince Mulek. The Book of Mormon states that Mulek was sent to the America's to fund a Colony. So, if you make a theological conclusion, the historic and dejure claim to the Throne of Judah is still extant in the genes of at least some American Indians today. Zedekiah was 20th and last sovereign of the separate kingdom of Judah, and Mulek was the ONLY crown prince who survived -- so that Kingship-line is ONLY available among American Indians.
Doctrine and Covenants 57: 4 Wherefore, it is wisdom that the land should be purchased by the saints, and also every tract lying westward, even unto the line running directly between Jew and Gentile.
FACT: The Doctrine and Covenants of the L.D.S. church is a purported revelation from God stating that the borderline between Missouri and Indian territory (now Kansas) was the "line that ran north and south between Jew and Gentile."
So, are some Indians Jews? Depends on whom you ask. DNA experts claim they have scientifically contradicted Book of Mormon claims... but don't tell you they really would need to find the actual graves of members of the Lehi Colony to actually prove "yay or nay."
Mormon doctrine states that (at least some) Indians Are Jews, underpinning the Book of Mormon claim that Mulek and his descendants are rightful heirs to the throne of Israel. So -- at the very least -- Mormon spiritual records indicate that the Indians living to the west of the Mormons at that same time were indeed descendants of Jews... or at least a specific group of Lenape (Delaware) Indians -- In Kansas and Missouri between 1818 and 1831 (and beyond) under Chief William Anderson at that time were Jews.
Why were the Lenape so important that God supposedly hinted to the Mormons that they were descendants of Jews?
Anciently, the mighty Cherokee Nation revered the much smaller Lenape nation, and called them "The Grandfathers." In 1779 the Traditional Cherokee (called "Kittuwa" by the Lenape) sent a delegation of "condolence" to their grandfather the Lenape, on the death of the Lenape head chief White Eyes.
It is known that while living in Ohio, Joseph Smith Jr. sent two missionaries with a copy of the Book of Mormon to be delivered to Indians west of the Missouri River, but the missionaries carrying the book apparently disobeyed and didn't deliver the book. Instead, (travelling in waist deep in snow in winter) they converted a group of white people and started a branch of the church in Missouri. The Nez Perce have a parallel story about Chief Joseph having a vision of sending emissaries to Independence, Missouri to be delivered a book from white men... but they travelled there -- waiting and waiting for weeks. Finally, they were given a copy of the King James Edition of the Holy Bible, and then returned home.
The descendants of that small Lehi colony were descendants of Joseph in Egypt - that biblical character also called "Zaphnath paneah," who rose from a slave to the Pharoah's second-in-command in just a few short years... after his 11 brothers stuck him in a hole, sold him into slavery -- then killed a ram and put that blood on Joseph's Coat of Many Colors -- and told their father Jacob he was dead. They did all that because Jacob placed Joseph as overseer over the 11 of them -- and because Joseph simply had a dream where he saw 11 stacks of wheat bowing down to one stack of wheat.
The majority of the non-Jewish Israelites -- descendants of Joseph of Egypt -- split off from the Unified Kingdom of Israel, and formed their own Kingdom to the the north of Jerusalem, later seemingly went mad, defiled their temple, left the land of Israel -- and actually became gentiles - having completely broken their end of all of the Sinai Covenant.
In stark contrast, the Lehi Colony were descendant of Joseph through his sons Mannaseh and Ephraim. They were torah-observant faithful non-Jewish members of the House of Israel who left their right land of inheritance in Samaria and settled near Jerusalem like thousands of other who wanted to remain torah observant -- but were led out of Jerusalem BY GOD HIMSELF 700 years before the birth of Jesus of Nazareth... who said he came only to redeem the Lost Sheep of Israel -- the fabled "Lost Tribes."
Spiritually, the Lehite descendants had an internal family rift over whether their younger brother Nephi saw an angel or not, so in the face of OVERWHELMING EVIDENCE -- rather than be led by their younger brother (just as Joseph's 11 brothers rejected his divinely appointed leadership) his brother Laman and Lemuel and their families split off and went separate ways. Both colonies, Nephites and Lamanites, waxed and waned -- and eventually warred over 2,200 years in the America. The good guy "Nephites" were opposed by the bad-boy "Lamanites." THen, he Nephites became the bad guys and the Lamanites the "good guys" -- and then switched back and forth ike that time and time again - over and over - over the millennial years... until finally both groups -- now mighty nations in the millions -- became so wicked they destroyed their entire civilization -- save only a few who escaped - around 1500 A.D.
But most modern Mormons would NEVER entertain the notion that this might be their fate... that they might be in error -- and that the Book of Mormon clearly lays out their fate IF they didn't watch their P's and Q's.
In 1977, I never dreamed that Indians (some of whom are my Cherokee ancestors) were so important to the Book of Mormon story... not only in the distant past -- but in the very near future.
Here's a story you won't read in the tracts that the young Mormon missionaries will give you to entice you to convert. In fact, of the the last two young missionaries who visited my home -- one immediately converted to my point of view, and the other became so angry at me he turned beet red.
Okay, here goes:


Paiute Indian prayer by descendant of Wovoka
IN THE WAKE OF THE RECENT PUBLICITY SURROUNDING THE MOUNTAIN MEADOWS MASSACRE, IT'S TIME FOR THE MORMON CHURCH TO TAKE RESPONSIBILITY FOR CAUSING MANY MANY DEATHS OF INDIANS DURING WESTERN EXPANSION. THEY NEED TO COME TO TERMS TO WHAT JOSEPH SMITH TAUGHT THEM CONCERNING INDIANS. THEY NEED TO COME FACE-TO-FACE WITH WHAT THEY WERE ORIGINALLY TAUGHT WAS RIGHT BY THEIR CHURCH FOUNDERS... BEFORE THEY FALL VICTIM TO JUDGMENTS DECREED AGAINST THEM IN THE BOOK OF MORMON AND IN THE DOCTRINE AND COVENANTS.
EXAMPLE: THE MORMON CHURCH THROUGH L.D.S. FOUNDATION GAVE KRISHNA FOLLOWERS $25,000.00 IN 1999 TO HELP BUILD A TEMPLE NEAR PROVO, UTAH , BUT THEY ONLY GAVE THE MEMBRENO APACHE (THROUGH THEIR 501(C)3 NATIVE AMERICAN CHURCH "IGLESIA DE AZTLAN") $3,000 WHEN THEY WERE ASKED FOR $10,000.00 TO CONTINUE THEIR SUNDANCE IN 2008.
HISTORICALLY AND DOCTRINALLY, THE MORMON CHURCH OWES NATIVE AMERICANS MUCH MORE THAN THEY OWE FOLLOWERS OF KRISHNA, DON'T YOU AGREE?


The Original Ghost Dance (the unpolluted version of Wovoka's dance) exactly as taught by Wovoka must be started up again... let me tell you how I got there...

In 1889 and 1890, newspaper accounts from military telegraph messages in the Boston Globe spoke of a gathering of thousands of Indians in Nevada from as far north as Alaska, and as far south as Tierra Del Fuego... all had been summoned there by dreams and visions to the Walker Lake Indian Reservation where they were taught by a Paiute Indian prophet named Wovoka, known as Jack Wilson to his white neighbors.
But the interesting part of this story is that Wovoka, Short Bull, and Porcupine as contended up to their deaths that Jesus Christ had visited them there in Nevada, had ordained them as Apostles, and had taught them a certain way to dance. The archives of The Boston Globe says (from telegraphed accounts) he arrived in an orange colored donut shaped flying craft, and when he stood up in the craft, steps down to the ground magically appeared.
Jesus gave the assemblage a dance, which He called it "The Dance of Welcome and Friendship," and told them to dance for the resurrection of their dead family and ancestors... and to dance for peace with the whites. He told them to become cleaner, and not to fight amongst themselves or kill the whites no matter what. Indian emissaries were sent out to all tribes in all direction with these specific messages.
Sadly, the Dance of Welcome and Friendship later became mistakenly know worldwide as THE GHOST DANCE after embittered Sioux Indians under Sitting Bull changed the intent of the dance and renamed it. They danced for the death of white people, and as a result, fear swept nearby whites with rumors of an Indian reservation outbreak and possible massacre of whites... and US Army troops were demanded for their protection. This happened 23-4 years after Colonel George Armstrong Custer and his command were massacred at the Little Big Horn, which the Indians called "Greasy Grass. The troops that arrived on the Sioux reservation were the U.S. 7th Cavalry... Custer's old command... and they wanted revenge for Little Big Horn. They got their revenge at Wounded Knee, where over 300 men, women and children were mercilessly and wantonly slaughtered after one deaf Sioux brave didn't understand what was going on and refused to give up his gun... and a struggle ensued in which his gun was fired... and the cavalry troops began firing. It all happened so fast, the cavalry commander was killed by a cannon round that plowed off the top of his head as he was standing in front of his troops!

In 1984, William Anderson (as Blueotter was known to himself at that time) had a dream in which a voice told him "When you turn 30 years old and have been in the church for 7 years, something very important will happen." After Scott turned 30 in December 1994, Scott started watching for a fulfillment.
Blueotter had started having prophetic dreams in 1982, when a voice told him, "An attempt on the life of Joanne Mary Anderson will be made during the dark-of-the-moon." 10 days later, Scott noticed blood and lymph fluid coming out of Joanne's right nipple, and that breast was surgically removed a few days after that. Her other breast was removed shortly after they returned to Utah in 1989, and Joanne passed away from Bone and Liver Cancer 13 years later. 10 days after her death, he told his second wife-to-be Betty about the 1982 dream, and they both checked the calendar together... and sure enough, Joanne has died at 11 AM on April 29, 1995 -- right in the middle of a three day dark-of-the-moon period.
There were more prophetic dreams and strange spiritual experiences before her death.... and many more since. Mainly these experiences seemed to be designed to build Scott's confidence in "The Voice" that was revealing these things to him. In August 1998, "The Voice" returned to say "You have 7 years." This made Scott angry, because he had a new wife and a 10 year old son to raise... and so he told the voice in no uncertain terms, "Hey... you have been telling me things that have come true since 1982. Just who the heck are you?" A few days later, "The Voice" returned and said, softly at first "I am..." then louder "I AM!" Scott knew that this was the same God that had contacted Abraham, Isaac, Jacob and became known to them as Jehovah -- the vary same God known to the Cherokee as "Yo-He-Wa."
In 1985, at age 30, Scott was led to the book Keys Of The Priesthood Illustrated (branded by the Mormon Church as a "controversial work" but not an apostate work) in a library in Utah -- which in turn led him to the book's publisher, Rhea Kunz... a lifelong educator and author in her own right. Rhea (a mixed blood Cherokee) was a close friend of Wovoka's son-in-law Andy Vidovich and his wife... who were both Wovoka's descendants. Rhea published the text of interviews with the Vidovichs in her book One Like Unto Moses which is still in print.
Later that same year of 1985, Scott had a dream in which a fullblood Indian appeared to him, and asked "When are you going to do something about Gardner Green's Genealogy?" It had been known to Scott since he was 16 exactly who Gardner Green was, because his Cherokee genealogy had been presented to him by his Great Uncles. The full blood Indian man in that dream had a white stone hanging from a chain around his neck, and his name was written in that stone and a KEY was also embedded in the stone... but Scott was not allowed to remember the name when he woke from the dream.

WOVOKA: THE Ghost Dance (the polluted version of Wovoka's dance)
By 1998, after Scott had walked the Red Road in earnest for 7 years with the direct assistance of Chief Robert "Three Eagles" Shrewsbury and his wife Mandy, he realized the man in the dream must have been Tuscarora Seer Mad Bear Anderson, who had died shortly before Scott received the dream.
Mad Bear was a close medicine-friend of Scott's traditional teacher John "Rolling Thunder" Pope, and had been directly responsible for the revival of Indian spirituality through his worldwide travels as a merchant mariner which allowed him to contact indigenous people worldwide... and formed spiritual alliances with their medicine man and women. Books about both Mad Bear and Rolling Thunder were written by Doug Boyd on a grant from the Menninger Foundation, investigating native healing.
From Rhea Allred Kunz, Scott learned certain facts surrounding Wovoka and the many lies published about him by white authors and how he was unjustly blamed for the massacre at Wounded Knee... and about the Church of Jesus Christ of Latter Day Saints (Mormon) Scott belonged to, and about a prophecy written by the L.D.S. church's founder Joseph Smith Jr. into (even current copies) of the D&C (Doctrine and Covenants 130:15) which states that if Joseph lived to be age 85 (December 23, 1890) he would once again see Jesus face-to-face in 1890, but Joseph was murdered before that.
The Massacre at Wounded Knee occurred six days after the 85th anniversary of Joseph Smith's birth -- on December 29, 1890. Joseph Smith's first plural wife Eliza Snow wrote a letter into the newspaper in Salt Lake City pointing out that the D&C 130:15 prophecy had been fulfilled.

Joseph Smith taught that the Latter Days Saints were "Gentiles," and the title page of the Book of Mormon says it "would come forth in due time by way of the Gentile", but Brigham Young changed that teaching, saying the Mormons were "Israel" and everyone else "Gentiles."
4.000 changes were made in the Utah editions of The Book Of Mormon -- but these changes are almost unknown in the editions of the Reorganized Church of Jesus Christ of Latter-Day Saints... those followers of Joseph Smith who remained in the east and did not follow Brigham west to what became Utah.
Most Utah Mormons seem unaware that Joseph Smith taught that The Book Of Mormon was to be translated and given to the Indians which he taught were a "remnant of Israel", and THEY were to build up the Kingdom of God.
I know what you are thinking... "I heard that DNA science disproved the Book of Mormon," but the actual graves of the Lehi Colony that left Jerusalem a few years before the Great Earthquake (about 700 years before the birth of Jesus), would have to be found and DNA extracted to either prove or disprove Joseph Smith's teachings in this matter. The Mormon church got rid of not only Polygamy in 1890... but MUCH moree importantly -- they shelved the idea of living "All Things in Common" as Jesus taught and his apostles lived after Jesus death.
The "All Things in Common" issue was VASTLY more important to the Mormons in their relationship with Creator than Polygamy ever was... and they broke a covenant when they stopped trying to live All Things in Common. Polygamy was a "side" issue, and would have eventually been abandoned when the Mormon population reached self-sufficient nation-state proportions.
Joseph Smith was trying to get The Mormons to live like Indians lived, and marry Indians as they colonized. Brigham Young briefly carried on this teaching, but things went wrong after that.
Example: Joseph Smith's bodyguard Porter Rockwell led the California Militia to the Northern Shoshone near Bear Lake just over what is now the Utah/Idaho state line, and they were massacred.
The FIRST of a string of massacre of Indians during western expansion happened because an emaciated Mormon Cow wandered into a Sioux camp. This started a series of revenge killings by the U.S. Army. After three days, the Sioux ate the cow. The Mormon owner of the cow showed up, and refused a gift of fine horses in recompense... and he brought back the US Army. The Grattan massacre (as the army called it) was witnessed by a young Crazy Horse. The Sioux called it The War of the Mormon Cow.
By treaty, Indians at the end of the 1800s held all reservation lands in common, shared crops, etc. This vital lifeway was all done away by the Dawes Act, and all reservations were spit up onto small plots to encourage individual Indians to become farmers.
The Mormons were originally told in the 1830s, and are still told this up to to the present day:
"At that day when the Gentiles shall sin against my gospel, and shall reject the fulness of my gospel, and shall be lifted up in the pride of their hearts above all nations, and above all the people of the whole earth, and shall be filled with all manner of lyings, and of deceits, and of mischiefs, and all manner of hypocrisy, and murders, and priestcrafts, and whoredoms, and of secret abominations; and if they shall do all those things, and shall reject the fulness of my gospel, behold, saith the Father, I will bring the fulness of my gospel from among them." (3 Nephi 16:10.)

MORMONS ARE GENTILES, NOT ISRAEL!
I reiterate: Joseph Smith taught that the Latter Days Saints were "Gentiles," and the title page of the Book of Mormon says it "would come forth in due time by way of the Gentile", but Brigham Young changed that teaching, saying the Mormons were "Israel" and everyone else "Gentiles."

Indians are "House of Israel." Anything else taught to Mormons is an outright lie... even if that erroneous teaching was later promulgated by Brigham Young.

3 Nephi 16:11 "And then will I remember my covenant which I have made unto my people, O house of Israel, and I will bring my gospel unto them."
Jesus personally brought the gospel to the Indians at Walker Lake, Nevada at the same time the Mormons were capitulating to the world, and abandoning "All Things Common" in 1889-90.
KNOW THIS: THIS PROPHECY WAS FULFILLED IN 1890 WHEN THE MORMONS GAVE UP "ALL THINGS COMMON" AND JOINED THE WORLD. POLYGAMY WAS ONLY A TEMPORARY COMMANDED, AND WOLD HAVE BEEN ABANDONED WHEN SUFFICIENT HUMANS WERE BORN TO CONSTITUTE A NATION-STATE.
THE ISSUE THEN WAS NOT POLYGAMY, BUT IT WAS AND STILL IS "ALL THINGS IN COMMON" WHICH IS THE WAY JESUS AND HIS APOSTLES TAUGHT PEOPLE TO LIVE.
IN THE 1890s, THE U.S. GOVERNMENT DID EVERYTHING IN THEIR POWER TO STOP MORMONS AND INDIANS FROM LIVING "ALL THINGS IN COMMON."

THE L.D.S. CHURCH WAS TOLD IN GENERAL CONFERENCE BY PRESIDENT SPENCER W. KIMBALL THAT A "DARK CLOUD" HUNG OVER THE CHURCH, AND HIS SUCCESSOR EZRA TAFT BENSON TOLD THE CHURCH IN 1986:
"Now, in our day, the Lord has revealed the need to reemphasize the Book of Mormon to get the Church and all the children of Zion out from under condemnation—the scourge and judgment."
As usual, the Mormons completely missed the point of Benson;'s speech, and have hidden from the Church the context of his actual message.

President Benson's predecessor, President Spencer W. Kimball said this in April Conference, 1977
The Lord goes further and says: "I will...destroy your cattle, and make you few in number; and your highways shall be desolate." (Lev. 26:22.) Can you think how the highways could be made desolate? When fuel and power are limited, when there is none to use, when men will walk instead of ride?
Have you ever thought, my good folks, that the matter of peace is in the hands of the Lord who says: "And I will bring a sword upon you..." (Lev. 26:25.) Would that be difficult? Do you read the papers? Are you acquainted with the hatreds of the world? What guarantee have you for permanent peace?
"...and ye shall be delivered into the hand of the enemy." (Lev. 26:25.)
Are there enemies who could and would afflict us? Have you thought of that?
"And I will make your cities waste," he says, "and bring your sanctuaries unto desolation....
"Then shall the land enjoy her sabbaths, as long as it lieth desolate, and ye be in your enemies' land; even then shall the land rest, and enjoy her sabbaths.
"As long as it lieth desolate it shall rest; because it did not rest [when it could] in your sabbaths, when ye dwelt upon it." (Lev. 26:31, 34-35.)
Those are difficult and very serious situations, but they are possible.
...The Lord uses the weather sometimes to discipline his people for the violation of his laws.
...We deal with many things which are thought to be not so spiritual; but all things are spiritual with the Lord, and he expects us to listen, and to obey, and to follow the commandments.
But by 1992, Mormons could hardly wait to shed the responsibility of storing food and making preparations. Rumors abounds that LDS officials sold out to FEMA and/or the U.N.

If Mormons actually read their own 1830 Book of Mormon -- instead of their recent edited Utah version with about 4,000 unauthorized changes -- and looked at the destiny laid out by Joseph Smith as opposed to their churches later evil actions against American Indians, they might begin to understand where they stand before their Creator -- they might avoid the calamitous judgments awaiting them if they simply admitted responsibility and made some changes.
Church, State and Nation will be brought up a standing like a wild colt to a snubbing post." Bishop John Koyle.
It is time for Mormon Church leaders to publicly "fess up" and repent. It is as simple as that. If they don't repent, the L.D.S. Church will face judgment first, then the State of Utah, then the United States.


Nuclear Explosions and Overpressure Destructive Aftermath

Joseph Smith, probably after having seen an atomic weapon in vision, prophecied July 23, 1837 D&C 122:24-26 "Vengeance cometh speedily upon the inhabitants of the earth, a day of wrath, a day of burning, a day of desolation, of weeping, of mourning, and of lamentation" and as a whirlwind it shall come upon the face of the earth saith the Lord. Upon my House shall it begin, and from my house it shall go forth, saith the the Lord." First among those among you, saith the Lord, who have professed to know my name but have not known me but have blasphemed against ne in the midst of my house, saith the Lord." First with the Mormons for abandoning the law of consecration (All Things in Common) and stewardship, then to the United States and Canada, which all will be taken into captivity for abandoning the covenant to have no poor and needy among them.


There is the scourge that Mormons face, written in their own scriptures: D&C 101:39-40 "When men are called unto mine everlasting gospel, and covenant with an everlasting covenant, they are accounted as the salt of the earth and the savor of men; They are called to be the savor of men; therefore, if the salt of the earth lose its savor, behold, it is thenceforth good for nothing only to be cast out and trodden under the feet of men."

Mormon 5:22-24 "And then, O ye Gentiles, how can ye stand before the power of God, except ye shall repent and turn from your evil ways;... Therefore, repent ye, and humble yourselves before him lest he shall come out in justice against you--lest a remnant of the seed of Jacob shall go forth among you as a lion, and tear you in pieces, and there is none to deliver."

----------
MORMONS WERE TAUGHT FROM THE BEGINNING THAT AMERICAN INDIANS WERE A "REMNANT OF THE SEED OF JACOB."
----------
Modern prophets like Edgar Cayce and Gordon Michael Scallion have both stated that people need to start live All Things Common. Cayce said this concept would save the world. All Things Common is NOT "Communism!"
---------

Blueotter also learned about the Mormon Church's original search for an "Future Indian Prophet" which was written into the footnotes all Book of Mormon english language edition up until 1909 and the Spanish edition until 1920. Apostle Orson Pratt footnoted the Book of Mormon subsequent leaders deleted the correct information in the chapter heading.
In 1890, another important prophecy was fulfilled: 2 cowboys near Tucson shot down a HUGE Condor -- flying thousands of miles out of its native range -- which clearly fulfilled the Quechua Maya prophecy "When the condor of the south shares its tears with the eagles of the north, Mother Earth she will begin to awaken."
Scott's travels with his family led him out of Utah from 1986 to late 1989, and upon his return Rhea (who passed away shortly after that) referred Scott to author and Hopi spokesperson Zula Brinkerhoff, who in turn referred him to the famed Hopi traditionalist spokesman Thomas Banyacya, Zula also referred Scott to the world-famous Medicine Man Rolling Thunder, a traditionalist Cherokee, in Carlin, Nevada.
Scott walked the Red Road from 1990 to 1998, learning about his Cherokee roots and his Chickamauga Cherokee traditionalist ancestors. In 1996, Scott published on the Internet The Native Prophecy NetCenter, which was eventually domained at http://www.NativeAmericanProphecy.com .
In March 1998 while in graduate school at Utah State University, Scott was given a prophecy that was fulfilled in 2005 with stunning accuracy. Later in 1998 when not enough financial aid precluded any further graduate studies, Scott and his family returned to his boyhood roots the midwest and south -- to be taught by Cherokee medicine people like Grandfathers John "Red Hat" Duke of the Cherokee Nation and United Keetoowah Band, and Grandfather Richard Craker, and Grandfather John Brings Buffalo in Missouri and Oklahoma.
In 2004, with a commission from Grandfather John Red Hat, (who passed in December 2003) Blueotter created an Internet radio program at http://www.prophecykeepers.com, and also founded Prophecykeepers Foundation, a 501(c)3 public foundation. Having been much maligned for my spiritual experiences and having the cajones to publish them, I sought out and partnered in Prophecykeepers Radio with the much-maligned Robert Ghostwolf. Ghostwolf was himself a Ghost Dance Chief, as was Rolling Thunder.
Ten days after 1998 Ghostdance Chief Robert Ghostwolf passed away in late December of 2005 -- while we were still living in Missouri, my wife Betty (a Paint Clan Cherokee) had an important dream. Immediately upon waking, she exclaimed "I just had a real strange dream. I saw that famous chief whose picture was taken after he was dead and frozen after the Wounded Knee massacre... what was his name?" I answered "Chief Bigfoot." Then Betty said "Yeah, that's the one.... and I saw Wovoka, Rolling Thunder and Ghostwolf, too... and other chiefs I didn't recognize... they were in a big council , and making big plans." I said to Betty, all of those men you mentioned have officiated at Ghost Dances... they are all Ghost Dance Chiefs!" so we knew something was up, and soon!

In early 2006, Grandfather Richard Craker (Pronounced KRAY-ker and rhymes with Quaker) commissioned Blueotter to write down and preserve as much about Cherokee culture as possible. Grandfather Richard Craker had previously invited Blueotter to apprentice to eventually become an "Adawehi" or Cherokee Medicine Man, but due to distance and travel expense, Blueotter was forced to decline.

After the stunning 2005 fulfillment of the prophecy Blueotter reported in 1998, he hoped he would not be called upon to deliver such messages ever again, but that was not Creator's plan. In the interim, Blueotter was also very badly treated and even slandered in some native circles... which continues to this day.
Then unexpectedly, in May of 2006, (just after as Scott reached the traditional Cherokee elder-age of 51) Creator give Blueotter instructions on how to "literally save the world."
In his sleep, in a dream, Blueotter saw scrolling red text which said:




Even after the fulfillment of the 1998 prophecy he was given, Blueotter was incredulous (definition: 1 : unwilling to admit or accept what is offered as true : not credulous : skeptical) to say the least, because the scroll in his dream stated "more information to follow." Blueotter put this strange message "up on the shelf" because he knew that Creator worked in this manner: "By the mouth of two or three witnesses every word shall be established (2 Cor 13:1).
So, he waited for another witness... and ended up waiting for 20 months... for a chance meeting with Jimmy "TenRivers" Atencio - a Membreno Apache elder.
The Membreno Apache are "Keepers of the Eastern Door" of The Sacred Four Corners area of Colorado, New Mexico, Arizona and Utah. They chartered a 501(c)3 Native American church "Iglesia de Aztlan"about 1995... long before any groups stared giving "Aztlan" a bad name through their negative actions.

In mid-January 2008, one of the Aztlan Membreno elders, Jimmy Ten Rivers, visited Blueotter. Meetings had been arranged by Blueotter and friends for the purpose of raising funds for Aztlan's annual sundance... including a chance for a grant from L.D.S. Foundation, which thanks to anesthesiologist Dr. Steve Jones, became a reality through the kind advocacy of L.D.S. Church historian Marlin K. Jensen, a General Authority who raised several adoptive Native Americans in his home.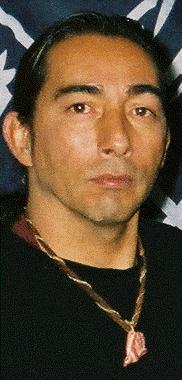 Closeup: Membreno Apache elder Jimmy TenRivers
During a quiet moment at Blueotter's wife Laura's home in Ephraim, Utah, Ten Rivers told Blueotter of a vision he was given recently in which Creator told him to re-start the Original Ghost Dance (Originally called "The Dance of Welcome and Friendship") exactly as Wovoka taught it in 1889-90... NOT the polluted version in which Sitting Bull's people made unauthorized changes to in such a way that they prayed for the death of all white people... which eventually resulted in The Massacre at Wounded Knee on December 29, 1890.

Ten Rivers didn't know exactly how the dance was to be run... just that if it was started up once again, it would cause a small spark that would eventually sweep the world like a prairie wildfire. He asked Blueotter if he knew anything about the ORIGINAL Ghost Dance... and Blueotter quickly jumped up off the couch and slapped a DVD into the TV and said "Wait one and you'll know what I found out not long ago."
Blueotter had the information on how to run the ORIGINAL Ghost Dance -- exactly as Wovoka taught it -- right at his fingertips. Guess where the information was? Well oddly enough, it was on the first "Billy Jack" blockbuster film. It seems that the Son-In-Law of Wovoka, Andy Vidovich, was an actual advisor on that film (click for proof #1 proof #2, proof #3,) and taught it to cast and crew!

Since January 2008, the lives of Ten Rivers and Blueotter -- a sure sign of spiritual warfare from the dark side against Prophecykeepers Foundation, Torah Voice, and Iglesia de Aztlan. Ten River's mortgage is threatened because of a death of his brother Russell -- AND so is the Sweat Lodge on his property. Many other Membreno families are suffering badly because of the failing U.S. economy. Their community may not be able to support the annual Sundance this year without more donations. A Membreno extended family member -- apache descendant Jay Lonewolf, who is a world-famous artist -- suffered a heart attack in late February, followed by influenza and is still recovering. Blueotter totally lost his family income on 2/28/08 because his employer was indicted by the FDA - but not because the herbal products being sold didn't work -- and as a result faces eviction and homelessness in just a few days from this writing on 3/20/08.

Many promises have been made of assistance, but no one seems to want (or may not be able for some reason) to follow through on their promises.
Regardless of all the personal dramas, plans are going ahead to re-start the Original Ghost Dance originally called "Dance of Welcome and Friendship" by Wovoka.
HELP US GATHER THE ELDERS TO THE EASTERN DOOR OF 4 CORNERS NEAR WALSENBURG, COLORADO TO RESTORE THE ORIGINAL GHOST DANCE!

HERE IS ORIGINAL GHOST DANCE AS TAUGHT BY WOVOKA'S SON-IN-LAW ANDY VIDOVICH TO THE CAST AND CREW OF BILLY JACK... THE MOST SUCCESSFUL INDEPENDENT MOTION PICTURE IN HISTORY... WHICH PROVIDED THE BUSINESS MODEL FOR ALL SUBSEQUENT BLOCKBUSTER FILMS.
About Will "Blueotter"


Will "Blueotter" Anderson, (view resume) is a mixed-blood Cherokee Indian -- legally recognized by The State of Alabama and The Republic of Mexico. He is webmaster for The Original Keetoowah Society... a society that was long ago told by Creator that they were the "Chief Tribe" of all Indian Tribes in The Americas, and IF ANY MESSAGE WAS TO BE DELIVERED TO THE TRIBES, IT WOULD COME THROUGH KEETOOWAH PROPHETS.
View a video on this subject recorded by KJRH-TV in Tulsa Oklahoma, in 1984.

Blueotter's traditional teachers included Chickamauga Cherokee Grandfather John "Rolling Thunder" Pope of the Paint Clan who was taught by Amoneeta Sequoyah and appeared in the Billy Jack films, Chickamauga Cherokee Adawehi Richard "Noksi Galagina" Craker who was taught by Cherokee Adawehi Elmer Casteel, and John "Red Hat" Duke of the Long Hair Clan, who was enrolled in both the Cherokee Nation of Oklahoma and The United Keetowah Band of Cherokee Indians.
Blueotter is a descendant (through the Cherokee Franklins) of Savanukah through the Keetoowah Bloodline. ca. 1776 Savanukah was "The Raven of Chota" - nephew of Principal Chief and Emperor Oconostota's and spokesman for the nation -- blood heir to the Nation -- and was war chief to the Cherokee Nation. He also descends from Cherokee Medicine Man Gardner Greene of the Wolf Clan who was listed on the 1835 Henderson Emigration Rolls.
Blueotter was given a remarkable prophecy by Creator's voice in a dream in March of 1998... a prophecy which he was commanded to write down and place on the Internet... a prophecy so remarkable that an orthodox Rabbi in Israel (who wishes to remain nameless) who is a Levitical Priest in Ramat Beit Smemesh, Israel -- started secretly watching for possible fulfillment of that prophecy in fall of 2004. That Rabbi landed in Houston, Texas for a pre-arranged trip THE DAY HURRICANE KATRINA HIT in 2005.
This Rabbi later emailed Blueotter in late 2005, telling him of a meeting of UN Climatologists in Toronto, Canada that was startling fulfillment of Blueotter's March 1998 prophecy. the Rabbi called the prophecy "the most detailed fulfillment of Prophecy in 2700 years" and characterized Blueotter as "A Prophet To The Nations."
CLICK HERE FOR DETAILS OF THE PROPHECY AND ITS STARTLING FULFILLMENT.


HOW YOU CAN HELP PROPHECY KEEPERS RADIO -


We Are a United Charitable Program

To make a tax deductible donation CLICK HERE
NOTE: By law, none of these tax-exempt donation go directly to into Blueotter's pocket.

Without the generous support of our listeners, we would have become extinct over a year ago. Please consider a gift, operating grant, or endowment to Prophecykeepers Radio. Donation is a great way to 'pay it forward' and help out the organizations you support. People today can donate cars, RVs, boats, clothing, food, money and even just their time to help organizations and charities all over the world.




Privacy Policy State Fundraising Notices Non Discrimination Policy


Prophecykeepers Foundation is a 501(c)3 Public charity, and we need your support. Please donate now (tax deductible). Please patronize our sponsors.


Prophecykeepers Foundation is a project of United Charitable Programs, Inc – a registered 501(c) (3) public charity."

All moneys raised by the Prophecykeepers Foundation are received by United Charitable Programs and become the sole property of CDP which, for internal operating purposes, allocates the funds to the Project. The Program Manager makes recommendations for disbursements which are reviewed by UCP for approval."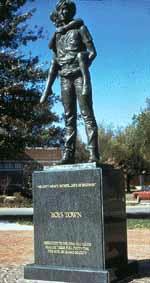 The famous "He ain't heavy, Father . . . he's m' brother" statue...
at Boystown, Nebraska where Will "Blueotter" Anderson used to work as a family living instructor






GRANDFATHER ROLLING THUNDER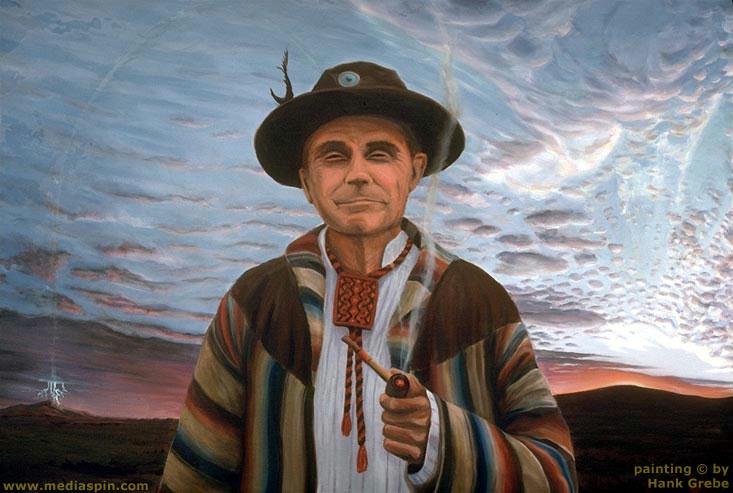 Rolling Thunder - InterTribal Medicine Man - Meta Tantay

This site is a member of WebRing. To browse visit here.